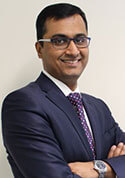 Click the link below to read the complete article about the use of surgical robot for treating complex endometriosis in a multidisciplinary fashion.
Increasing Robotic Excellence with Dual Operating Consoles
In a first for the San Hospital, a complex dual console gynaecological operation using the state-of-the-art da Vinci Robot has been performed with both gynaecological and colorectal surgeons working side-by-side simultaneously, made possible because of the Hospital's da Vinci Xi Robot with two linked operating consoles.
With the San one of only 4 hospitals in NSW thought to have dual consoles, the procedure involved both surgeons controlling the highly advanced robotic technology while seated at separate consoles, sharing and swapping the control of the instruments, taking turns as needed to complete the combined gynaecological colorectal procedure.
The patient required a hysterectomy and surgery to remove severe endometriosis that extended into the bowel.
Endometriosis occurs when the tissue that lines the inside of the uterus grows outside the uterus, on other organs and structures in the body.
It can progressively worsen causing pelvic and period pain, pain during sexual intercourse and infertility seriously effecting quality of life.
The San is home to world best robotic equipment following the October 2017 installation of the $3 million plus da Vinci Xi robot surgical system, named in honour of genius Leonardo da Vinci, which complemented the San's existing da Vinci X robot, making it the first private hospital to have both the X and the Xi models….Read More
Follow my posts on Google
Contact us at AEVAFEM for more information
At AEVAFEM, our specialists will take the time required to make you feel comfortable, alleviate the uncertainty of having a gynaecological procedure or surgery and help you make an informed decision on the best treatment solution for you.
Dr Yogesh Nikam is a Specialist Gynaecological & Robotic Surgeon
Call 1300 724 380 to make an appointment.
Disclaimer: The information provided does not constitute medical, professional or expert advice. Every effort has been made to provide accurate information at the time of publishing, but no warranty as to its accuracy is given. Readers should seek professional medical assistance if they are suffering from any medical problem