Obstetrician & Gynaecological Surgeon
BCom (Actuarial) BAppFin
MBBS (Hons) FRANZCOG
Obstetrics
Gynaecology
Laparoscopic Surgery
Dr Monika Mukerji is inspired by the miracle of life and the magical journey of pregnancy and beyond. Passionate about women's health, she is dedicated to providing the highest quality and evidence based care to her patients and their families. She is kind, nurturing, empathetic and cares deeply for her patients as well as the team she works with.
Monika consults from her private rooms at Norwest and Sydney Adventist Hospital.  She delivers babies and performs gynaecological surgery at:
Monika is also a Consultant Obstetrician & Gynaecologist in the public sector with admitting rights to Westmead and Auburn Hospitals.
Obstetric Care
Monika is passionate about obstetrics. She is committed to providing the highest quality of pregnancy care which is holistic and patient focused to nurture the beautiful lifelong bonds that are being created.
Having completed her specialist training at Westmead Hospital, a busy tertiary centre, she has developed the highest level of skill and expertise in managing pregnancies including high risk complications. She is confident, professional and committed to ensuring her patients are well informed and central in the decision-making process during their pregnancy.
Monika feels privileged to work in this wonderful speciality and is excited to have the opportunity to share this journey with you.
Gynaecological Care
Monika specialises in all aspects of women's' health and benign gynaecological care. Having advanced her gynaecological skills with a dedicated Fellowship in Gynaecology, Monika has extensive experience in managing your gynaecological needs.
The Person Behind the Doctor
Monika is married with 2 beautiful daughters. Having herself experienced gynaecological surgery, fertility issues, conception and the magic of pregnancy, Monika understands the emotional journey that is wonderful but also at times overwhelming.
Family is extremely important and she loves spending time with her girls. She also enjoys delicious food, meditation, travel and quality time with friends and family. She loves to smile and enjoy the wonders of life.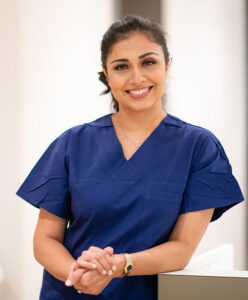 Expertise in:
Obstetrics– general pregnancy issues, pre-eclampsia, gestational diabetes, thyroid disease and twin pregnancies.
Gynaecology– office gynaecology, abnormal cervical screening tests & colposcopy, abnormal menstrual bleeding, pelvic pain, adnexal pathology, family planning and contraception, early pregnancy complications, pelvic floor dysfunction and menopause.
Laparoscopic Surgery– minimally invasive laparoscopic surgery for ovarian cysts, tubal disease, tubal ligation, hysterectomy, ectopic pregnancy
What do Monika's Qualifications Mean?
Fellowship Royal Australian & New Zealand College of Obstetricians & Gynaecologists (FRANZCOG) – Six years of specialist training, allowing Monika to practice as a specialist Obstetrician & Gynaecologist.  Monika completed specialist training at Westmead Hospital.  Prior to this, she also completed her medical internship & residency at Westmead Public Hospital.
Bachelor of Medicine/Bachelor of Surgery [MBBS (Hons)] Monika completed her medical degree from the University of Sydney where she graduated with Honours.
Bachelor of Commerce (Actuarial Studies), Bachelor of Applied Finance – Prior embarking on her medical career, Monika completed her double degree in Actuarial studies and Finance at Macquarie University and Fellowship in Actuarial Studies. Although the world of finance, mathematics and statistics was interesting, she followed her calling for Medicine and has never looked back.