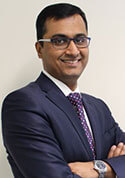 Deep infiltrating endometriosis (D.I.E) is a particularly aggressive form of endometriosis that penetrates greater than 5mm beneath the peritoneal surface. D.I.E lesions are considered to be very active. They are strongly associated with pain, altering the quality of life.
Pelvic pain, dysmenorrhoea ( severe pain with periods), dyspareunia ( pain with sex) or dyschezia (painful defecation / passing stool) are signs suggestive of D.I.E. Surgical therapy is appropriate and successful than medical treatment.
I recently published an article in the Sydney Adventist Hospital newsletter. Please click on the link below to read or download the full article.
Here is the summary of the key points in the article.
Deep infiltrating endometriosis (D.I.E) is a particular form of endometriosis that penetrates greater than 5 mm beneath the peritoneal surface. D.I.E lesions are considered to be very active. They are strongly associated with pain, altering the quality of life.
The revised American Society for Reproductive Medicine (rASRM) classification system is the most widely used classification system for endometriosis. Endometriomas & D.I.E (rASRM Stages III & IV) are considered the severe forms of the disease and pose a difficult surgical challenge for the treating gynaecologist.
Dysmenorrhea is the most common predictor of endometriosis, correlating in 80% of the patients with endometriosis. However, it does not correlate with the severity of the disease.
Physical examination often reveals positive findings such as a palpable tender nodule in the rectovaginal septum or the posterior cul-de-sac.
A good quality transvaginal ultrasound can identify ovarian endometriomas and D.I.E. However, this accounts for only 20% of patients with endometriosis. Laparoscopy with peritoneal biopsy is still the gold standard to diagnose endometriosis.
Serum Ca 125 levels is high in patients with endometriosis (greater than 35 IU/ml) and hence not a sensitive indicator of the extent of disease.
Treatment is aimed to alleviate pain,  improve fertility and preserve organ function.
Medical Therapies: Endometriosis is an estrogen-mediated disease. Hence medical therapies involve oral progestins, LNG IUCD (Mirena) and GnRH agonist. For D.I.E, medical therapies have been reported to be ineffective or transiently effective for pain management.
Surgery for D.I.E in a patient with pelvic pain: Conservative therapy involves the removal of visible implants and restoration of anatomy. Excision of the implants has been shown to improve the conception rate over the background rate in between 10-25%. This form of treatment is also highly effective in resolving pain.
Definitive treatments consist of Hysterectomy with or without bilateral salpingo-oophorectomy, in particular if there is concurrent Uterine Adenomyosis (bleeding into the muscle wall of the uterus)  . This is highly advantageous for pelvic pain control, reduction of dysmenorrhoea, and hence, the patient satisfaction rates are high. The current evidence does not demonstrate improvement of pregnancy rates in women undergoing surgical management of rectovaginal endometriosis. However, patients with rectosigmoid involvement who undergo bowel resection report resolution of their symptoms in up to 70%.
Finally remember, there is no cure for endometriosis. Endometriosis affects every woman differently and hence the treatment for every woman can be different. Laparoscopic excision is the best treatment. However, it should only be performed by a surgeon with a good knowledge of the disease and with experience in the skilful techniques needed.
Follow my posts on Google
Contact us at AEVAFEM for more information
At AEVAFEM, our specialists will take the time required to make you feel comfortable, alleviate the uncertainty of having a gynaecological procedure or surgery and help you make an informed decision on the best treatment solution for you.
Dr Yogesh Nikam is a Specialist Gynaecological & Uro-Gynaecological Surgeon
Dr Warren Chan is a Fertility Specialist & Gynaecological Surgeon
Call 1300 724 380 to make an appointment.
Disclaimer: The information provided does not constitute medical, professional or expert advice. Every effort has been done to provide accurate information at the time of printing / publishing, but no warranty as to its accuracy is given.Users should seek professional medical assistance if they are suffering from any medical problem.